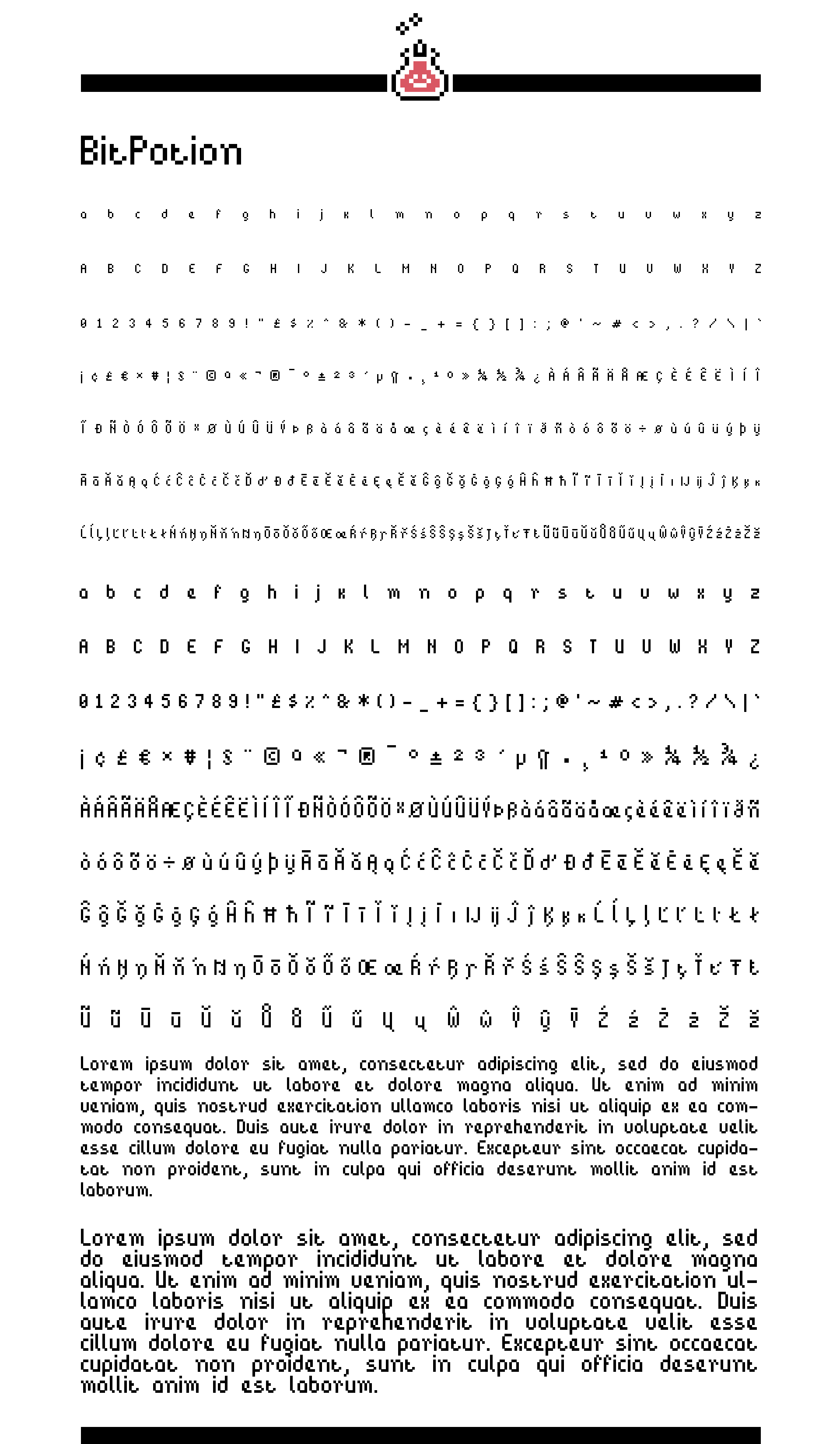 BitPotion
BitPotion is a pixel font available in both TTF and Bitmap formats (.png + .fnt).

The font contains both uppercase and lowercase letters, numbers and a range of commonly used symbols. BitPotion Extended adds a large range of Latin accented characters and a further range of symbols.
The average size of the characters is 4x7 for uppercase letters and 4x5 for lowercase, stretching to 7 with ascenders/descenders.
Works best if used at font sizes in multiples of 16.
This font is free to use in both personal and commercial projects. Credit would be preferred. If you use it in a project of yours, I'd love to know about it!
Available under the CC-BY license.
If you have any particular issues with the license, don't hesitate to get in contact and we may be able to work out a different license on an individual basis.
Font by Joeb Rogers.
| | |
| --- | --- |
| Status | Released |
| Category | Assets |
| Rating | |
| Author | Joeb Rogers |
| Made with | XNA, Stencyl, RPG Maker, Multimedia Fusion, FNA, Lightweight Java Game Library, Unreal Engine, Phaser, SDL, Unity, Allegro, pygame, MonoGame, Clickteam Fusion, LÖVE, SFML, GameMaker: Studio, Haxe, libGDX |
| Tags | 16-bit, 1-bit, 8-Bit, Action-Adventure, Fonts, Pixel Art, Retro, Text based |
| Asset license | Creative Commons Attribution v4.0 International |
Download
Click download now to get access to the following files:
BitPotion Extended - Full
29 kB
Bitpotion Extended - TTF
32 kB
BitPotion Extended - Bitmap Fonts
17 kB
BitPotion - Bitmap Fonts
4 kB
Comments
Log in with itch.io to leave a comment.
Hey, I'm glad you like it! So I did a bit of digging, the indexes you need should match the decimal codes listed for the Latin-1 supplement characters found here: (https://en.wikipedia.org/wiki/List_of_Unicode_characters#Latin-1_Supplement)

For example, the character range you're after for the accented characters I think would start from the À character (192), and end at the ÿ character (255). The codes for Latin Extended-A should also all match characters in the font.

To more directly match them up, you can head here, the webtool that I use to make the font: (https://www.pentacom.jp/pentacom/bitfontmaker2/). It has an import functionality in the top right, where you can upload the ttf version of the font. Then, on the toolbar of the left-side pane (the font creation grid), click the button in the topright that looks like a document with input and output arrows to the side, this should bring up the "Data import/export" window, which will both display and let you download a json structure that maps the decimal codes to an array of the pixel data. A bit more difficult to actually line up, as you would have to determine the index of the character in the character map on the right of the screen first to be able to determine the line number matching the decimal code you need. But that shouldn't be necessary except for any extraneous characters I might have missed, as from what I checked, the data output matches the decimal codes listed in the linked wiki page.
Hope that helps and best of luck with the project.
Hello! I like this font and would like to convert it for use with pico-8 (see this message for more info: https://itch.io/post/2610777 ), with due credit given :) I have looked at the PNG images and I don't understand how to use them; usually fonts have their characters laid out in ASCII order, or in alphabetic order, but here I see a partial repertoire in an irregular order. Am I looking wrong? Thanks in advance for help!
Hey! No, you're not wrong, I had used a tool to generate the image version of the font from the actual ttf file - not sure what was specifically wrong with the config, but the output is non-standard and I had trouble using it semi-recently, and did get some better results converting again with different configurations, but I never got beyond a few test files with that, so not sure which of those are actually usable.

I'll possibly try and upload a better bitmap version at the weekend maybe if work lets up. In the meantime, you may make much smoother progress generating a png version with the exact specifications you need yourself from the .ttf file, there's a bunch of free/open source tools that can do that!
Thank you for this font! I used it in my very first videogame:
Hey I really enjoyed this font, made a game using it.
Oh awesome, thanks for choosing my font, I'm glad you like it. Congrats on the game, I'll definitely give it a try when I get time!
This font is really awesome! Can you also make it in square pngs? Like as a 16x16 or a 32x32 size png. That would make it easy to load up in rouge-like engines.